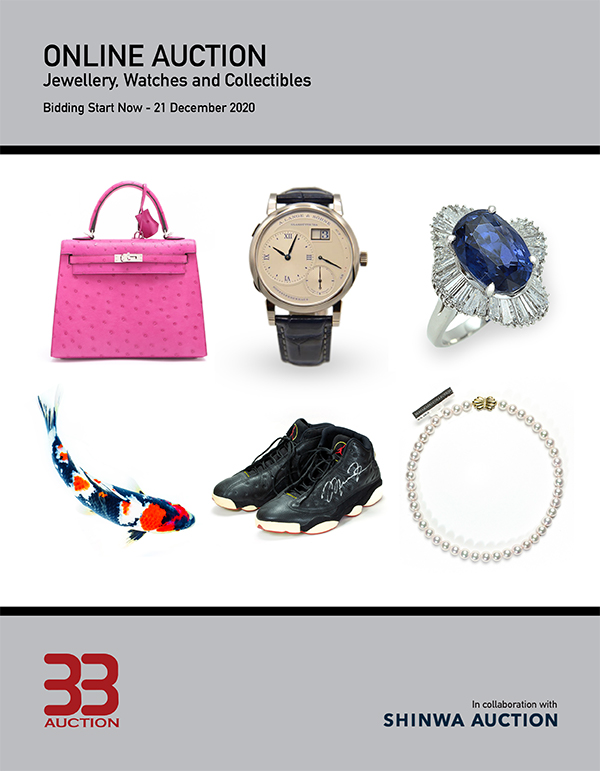 Jewellery, Watches and Collectibles Online Auction (in collaboration with Shinwa Auction) (OS026)
Please note that each lot is currently located in Japan. Delivery, duty, and taxes will be borne by the buyer.
33 Auction in collaboration with Shinwa Auction is proud to present a year-end online auction of Jewellery, Watches, and Collectibles. On offer are many uniquely designed jewellery including top quality Akoya Pearls necklace, selection of Hermes bags, watches, collectible sneakers worn by Michael Jordan as well as beautiful koi carp from renowned Japanese fish farms.
Buyer's premium: 15% of the hammer price only.
Bidding information
To bid in this online-only auction, please create a new account or login to auctions.33auction.com with your 33 Auction online account. Lots close independently in 1 minute intervals. If competitive bidding occurs 10 minutes before lot's closing time, the closing time is 'rolled over' for a further 10 minutes, so you can place a higher bid, just like in a live auction! You can also leave the 'maximum bid' that you are prepared to pay – our system will bid on your behalf if there is a competitive bidding, up to your maximum bid amount.
Since bids are solely placed online-only, we do advise clients who wish to bid but are unfamiliar with the system to contact our auction administrator for further assistance. To learn how to bid in 33 Auction online-only auction, visit the guide or read the guide in Bahasa Indonesia
Tel: +65 6747 4555
WA: +65 93867233 (David Fu)
WA: +65 96912755 (Sui Chen)
WA: +62 811-881-133 /+62 817-880-986 (Suwarno Karyadi)
Email: live@33auction.com