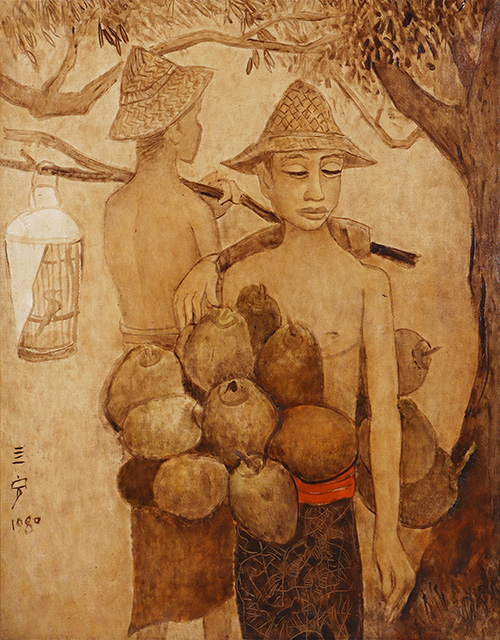 2023 Singapore Autumn Sale | Modern and Contemporary Art Online Live Auction
Singapore Viewing
28 Oct – 5 Nov 2023 | 10am – 6:30pm SGT
Jakarta Viewing
31 Oct – 5 Nov 2023 | 10am – 8pm JKT
Singapore Viewing
39 Keppel Road #04-04 Singapore 089065
Jakarta Viewing
Indonesia Design District (IDD) @PIK 2
Zoning Thamrin, Unit T3 & T5, Jl MH Thamrin
Tangerang Banten 15214
On November 5th, 2023, 33 Auction will hold its 2023 Singapore Autumn Auction – Modern and Contemporary Art Online Live Auction in Singapore. Art enthusiasts and collectors  will converge at the Four Seasons Hotel Singapore or online for an extraordinary auction event. This highly anticipated auction promises to be a celebration of artistic excellence and cultural heritage, featuring a curated selection of rare and exquisite pieces. Bidders and spectators alike will have the unique opportunity to witness the thrill of the auction floor, where masterpieces are unveiled and coveted treasures change hands.
At the heart of this auction lies a rich tapestry of human creativity and innovation. Each item up for bid tells a story, whether it's a meticulously carved sculpture, a canvas alive with vibrant colors or a painting under-priced by the market. This November 5th auction is more than just a marketplace; it's a testament to the enduring power of art to inspire, provoke, and connect us across generations and cultures.
This auction presents a selection of Indonesian Modern artworks by renowned modern maestro artists: Affandi, Hendra Gunawan, Mochtar Apin, and Haji Widayat, accompanied by selection of highly desirable works by Singaporean artists like Cheong Soo Pieng, Chen Wen Hsi, Tsue Ta Tee, Chen Cheng Mei, Goh Beng Kwan, Ong Kim Seng, Tan Choh Tee, and more. An exquisite selection of Indo-European paintings by Adrien Jean Le Mayeur De Merpres, Rudolf Bonnet, and GP Adolfs will also be a feature of this auction. We will also be offering a group of works by Tran Luu Hau, Bui Xuan Phai, Dang Xuan Hoa from Vietnam as well as Zhang Jianjun, Xiang Jing, Hu Jiancheng, Chuang Che and many other artists from China.
BUYER'S PREMIUM:
22% of the hammer price on each lot.
BIDDING INFORMATION
This auction is an online-timed-then-live auction. Bids are accepted online till before the auction goes live.
Bidding is accepted via:
1. Written bid: Submit your maximum bid on any lot before the sale and let the auctioneer execute your bid up to your maximum on the auction day. Please complete the Absentee Bidding Form and return to us with a copy of your photo identification.
2. Telephone bid: Leave us your instruction to call you to bid on any lot you are interested in and we will call you during the auction to assist you to place the bid via telephone. Please complete the Absentee Bidding Form and return to us with a copy of your photo identification.
3. In-person bidding: If you are in Singapore and you may register for a paddle to attend the auction and bid in-person. Please complete the Bidding Registration Form and return to us with a copy of your photo identification to get a paddle number assigned to you; you may collect the bidding paddle from the registration desk in the saleroom on the auction day.
4. Internet bidding: Please create a new account or login to auctions.33auction.com or 33 Auction mobile apps with your 33 Auction online account. You can leave the 'maximum bid' that you are prepared to pay – our system will bid on your behalf if there is competitive bidding, up to your maximum bid amount. You can also bid live as you watch live stream of the auction using the apps or on our website.
Tel: +65 67474555
WA: +65 93867233 (David Fu)
WA: +62 811-881-133 /+62 817-880-986 (Suwarno Karyadi)
WA: +65 91695105 (Stacy Kang)
WA: +62 8161-123-456 (Doni Sanjaya)
Email: live@33auction.com